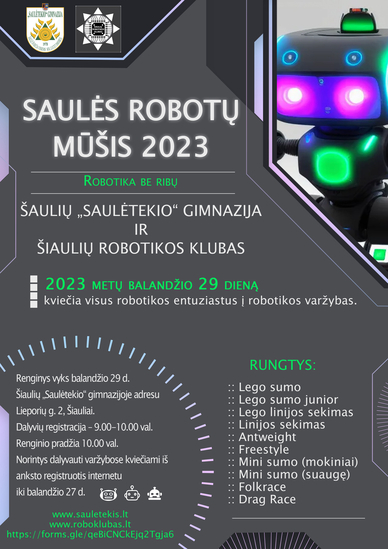 International Robotics Competition
"BATTLE OF SUNCITY ROBOTS 2023"
Šiauliai "Saulėtekis" Gymnasium, and Šiauliai robotics club, invites all robotics enthusiasts to register for international competition, participate in it and win valuable prizes.
The event will take place on April 29th at Šiauliai "Saulėtekis" Gymnasium at Lieporiai str. 2, Šiauliai.
Registration of participants – 9.00-10.00 AM
The beginning of the event – 10.00 AM
Participants are invited to register on the website of Šiauliai robotics club until April 27th
Competition matches:
Demonstration match:
LEGO SUMO JUNIOR (under 13)
LEGO SUMO (over 13)
MINI SUMO (students)
MINI SUMO (adults)
LEGO LINE TRACKING
LINE TRACKING
FOLKRACE
FREESTYLE
ANTWEIGHT

Drag Race




:: COMPETITION SCHEDULE ::
The partner of the event is Domas Griškevičius, a member of the Seimas of the Republic of Lithuania.
Sponsors:
We invite not only robot developers, but also those who take their first steps in robotics or just want to enjoy and have good time watching the fierce battles of robots.
Video and pictures of the competitions will be taken and displayed officially.
Organizers